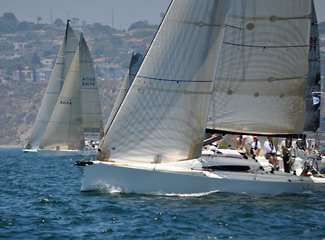 The Transpac race has begun! The July 4th start saw light air, and Harry Zanville's Kernan designed SC37 "Celerity" took a quick lead at the start. The fleet has been struggling with light air and having to work north to get into the gradient breeze. "Celerity" is furthest north and in a great position to get into the breeze first.
---
KYD designed and optimized yachts competing in the 2011 Transpac:
Div. 1

"Magnitude 80" – KYD designed a new 20′ draft fixed keel and optimized the boat to compete for the coveted "Barn Door" trophy. Tim is sailing with Doug Baker and crew.
"Peligroso" – The highly successful KYD design under new ownership.

Div. 2

"Katana" – Our new 47′ pre-preg carbon racer for Dr. Laura Schlessinger will be competing in a tough division.

Div. 5

"Horizon" – Jack Taylor's KYD optimized SC50 will be shooting for a repeat of her overall win in the recent Pac Cup.

Div. 6

"Celerity" – Harry Zanville and crew will be racing their SC37 in the race she was designed for!